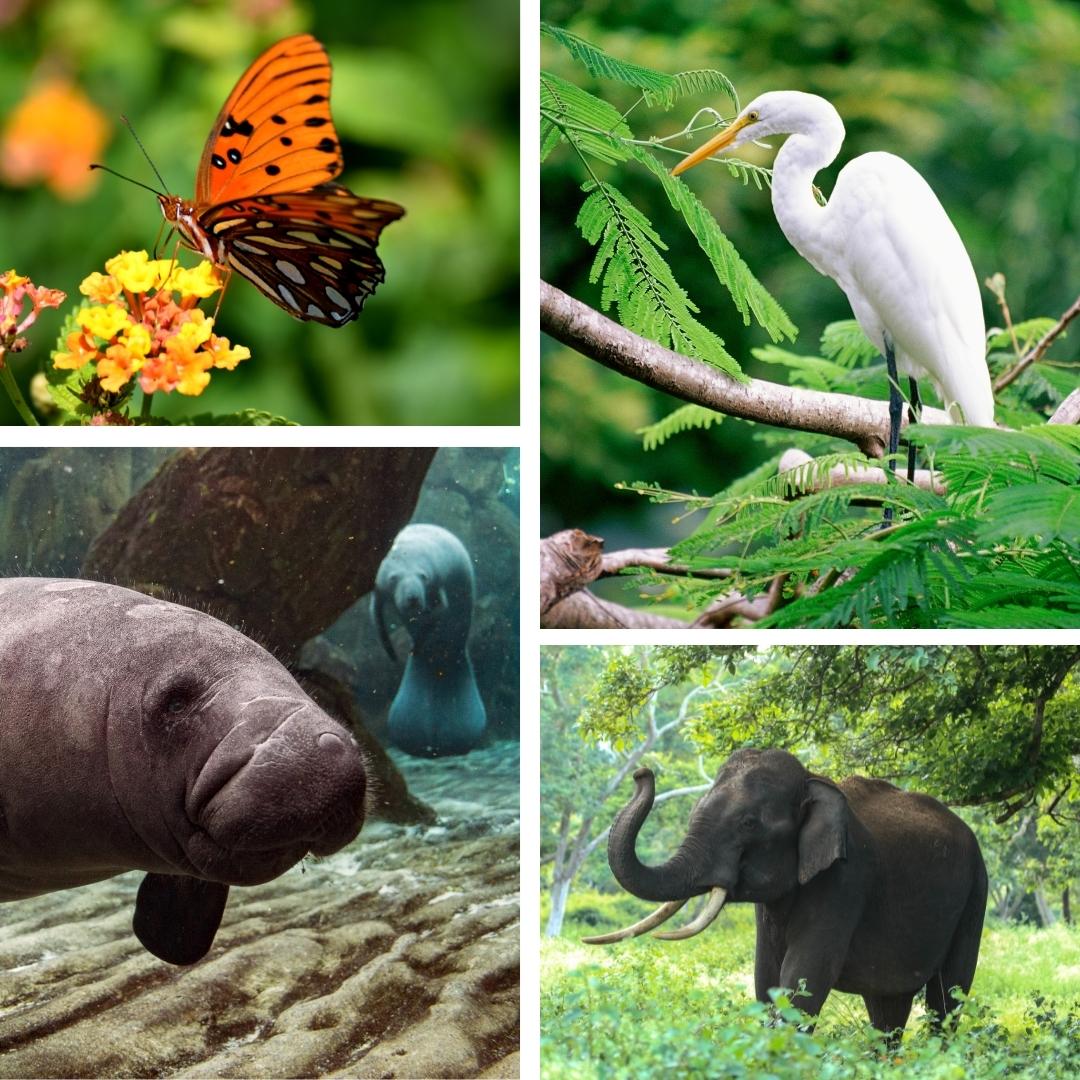 Love Animals? So do we!
There are several nationally recognized and award winning zoos and non-profit wildlife rehabs in our area. Below are some of our favorites. We hope you enjoy visiting them as much as we do.
Butterfly House-The Butterfly Estates | www.thebutterflyestates.com | 1815 Fowler St, Fort Myers, FL | 239.690.2359
Behold the beauty of Florida's native butterflies in a 3600 sqft glass butterfly conservatory!
Clinic for the Rehabilitation of Wildlife (CROW) | www.crowclinic.org | 3883 Sanibel Captiva Rd, Sanibel Island, FL | 239.472.3644
CROW's Visitor Education Center (VEC) offers behind-the-scenes views into CROW's animal care through live camera feeds, interactive displays and daily presentations by students, staff, and volunteers.
Clearwater Marine Aquarium | www.cmaquarium.org | 249 Windward Passage, Clearwater, FL | 727.441.1790
As the former home of "Winter" the dolphin as seen in the movie "A Dolphin Tale", CMA has enjoyed worldwide recognition and appreciation as a world class rescue, rehab, educational, and research institute.  CMA is home to a variety of marine mammals and offers encounters and experiences to make your visit especially memorable.
Florida Aquarium | www.flaquarium.org | 701 Channelside Dr, Tampa, FL | 813.273.4000
Rated among the best aquariums in the US, the ever-expanding Florida Aquarium welcomes visitors to experience a wide variety of aquatic and terrestrial animals including sea turtles, sharks, lemurs, otters, to name a few, with the goal of building awareness and inspiring conservation action.
Manatee Park | www.leegov.com/parks/parks/manateepark | 10901 State Road 80 (Palm Beach Blvd) Fort Myers, FL
Manatee Park is a seasonal location for viewing non-captive Fl manatees in Lee County.  Manatees visit the park in search of warm water during the cooler days in winter when the temperature in the Gulf of Mexico is below 68 degrees.
Mote Marine Laboratory & Aquarium | www.mote.org | 1600 Ken Thompson Pkwy, Sarasota, FL | 941.388.4441
Known world-wide for their research, marine life conservation, and education, Mote Marine offers visitors the opportunity to see up close the beautiful animals that inhabit our oceans, and learn about how to help these animals as well as the waters they live in.
Myakka Elephant Ranch – By reservation only | www.myakkaelephantranch.org | 941.701.0220
Myakka Elephant Ranch is a non-profit conservation center that offers a variety of unique encounter experiences to visitors. Located 11 miles East of I-75 between Lakewood Ranch and Myakka City. Exact location will be in a confirmation email when you book a reservation.
Naples Zoo at Caribbean Gardens | www.napleszoo.org | 1590 Goodlette-Frank Rd, Naples, FL | 239.920.2085
Naples Zoo is a true zoological garden exhibiting a blend of exotic animals surrounded by mature trees and exotic plants of a historic tropical garden. Open daily 9:00 am – 4:30 pm (3:30 pm last entry).
Peace River Wildlife Center | www.prwildlife.org | 223 Martin Luther King Jr. Blvd, Punta Gorda, FL | 941.637.3830
PRWC is a non-profit rescue, rehab, and release facility in beautiful Punta Gorda, FL.  The center is open to the public for tours every day 11am – 4pm during which you will learn all about the nearly 120 permanent residents on site.  These animals include a variety of native birds, small mammals, and reptiles.
Save Our Seabirds | www.saveourseabirds.org | 1708 Ken Thompson Pkwy, Sarasota, FL | 941.388.3010
Located on the former site of the Pelican Man's Bird Sanctuary, Save Our Seabirds rescues, rehabs, and releases sick and/or injured seabirds.  Visitors can tour the sanctuary that includes a variety of permanent seabird residents that could not be released back into the wild.
Zoo Tampa at Lowery Park | www.zootampa.org | 1101 W Sligh Ave, Tampa, FL | 813.935.8552
As a multi-award-winning zoo, Zoo Tampa at Lowery Park encompasses 56 acres of naturalistic animal exhibits, and offers a variety of animal encounters, behind-the-scenes tours, and other special personalized experiences.  Open daily 9:30 am – 5:00 pm.